The Recovery Village at Palmer Lake, Colorado
The Recovery Village at Palmer Lake is one of Colorado's leading addiction and mental health disorder treatment facilities. Each year, our all-encompassing approach to treatment and ongoing care helps hundreds begin the lifelong path toward recovery. Learn more about our location, amenities and full continuum of care here.
Call Us Today
About Us
Our 110-bed facility is situated in a peaceful, therapeutic location near Colorado Springs — an area of scenic landscapes and breathtaking vistas. Because comfort is our priority, we can ensure a clean and safe environment that provides a nourishing experience for the body and soul. This focus on healing, comfort and safety is a defining cornerstone of our program and culture at The Recovery Village at Palmer Lake.
Our Facility in Palmer Lake, CO
443 S. Hwy 105,
Palmer Lake, CO 80133
The Recovery Village at Palmer Lake helps people throughout their lifelong recovery journey by providing:
Evidence-based addiction treatment
A full continuum of care
Counseling for co-occurring mental health conditions
Personalized programming
Healing amenities and therapy options
Why Choose Us
The Recovery Village at Palmer Lake is one of several facilities in the Advanced Recovery Systems (ARS) network that offers rehabilitation for addiction and co-occurring disorders. Established in 2012 by a team of medical and clinical professionals, ARS has helped hundreds of people live healthier, happier lives by offering an advanced approach to patient care. The Recovery Village Palmer Lake uses the same approach, incorporating treatment that is evidence-based, comprehensive and individualized. We are also a member of the National Association of Addiction Treatment Providers (NAATP).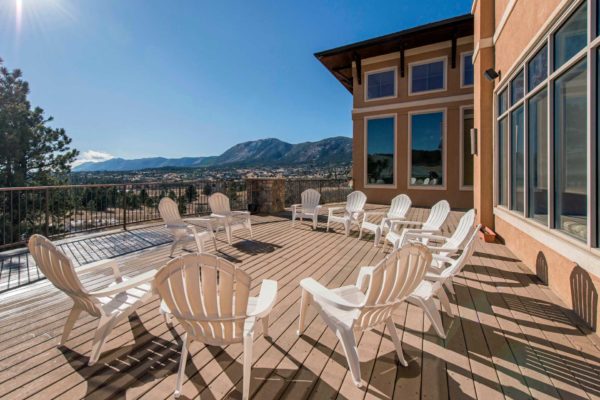 The natural landscapes surrounding our facility make the outdoors a perfect place for group therapy and relaxation. We also offer well-fitted therapy rooms made for one-on-one conversations or group counseling sessions.
Professional but hardly clinical, our facility looks less like a treatment center and more like a fully featured, resort-style hotel.
Between treatment sessions, clients can blow off steam on the basketball court, dive into our heated pool, form a sand volleyball team or walk the nearby trails.
Our separate housing for men and women includes spacious rooms, a wide array of helpful amenities and gorgeous window views. These suites are made for rest and reflection — a perfect environment for deep healing to take place.
Indoor and outdoor amenities at The Recovery Village at Palmer Lake include but are not limited to:
Two fully equipped gyms
Basketball courts
Heated pool
Sand volleyball, Squash, Pickleball courts
Ping pong tables, Drama therapy
Walking trails, Mountain views
What Our Patients Say
Our Team
The Recovery Village at Palmer Lake is staffed by a multidisciplinary team of addiction specialists and recovery experts. Medical professionals at our facility include physicians, nurses, therapists, mental health counselors, psychiatrists, behavioral health technicians and many others. Leading the team is our facility's medical director, Dr. Adam Richmond, MD, who brings over a decade of leadership experience and medical knowledge to our campus. Learn more about our professional team.
Dr. Adam Richmond
Medical Director
P.J. Havice, CAC, LPC
Executive Director
Kacie Chelli, MS
Colorado Outreach Director
Admissions
The admissions process begins by either calling one of our helpful representatives or setting up a convenient time for us to contact you. The representative you speak with will conduct a brief intake pre-assessment to determine your eligibility and the level of care you may require.
You may be asked about your history of substance use, mental health concerns, current environment and related medical information. Your intake coordinator will also verify that your health insurance provider covers treatment at our rehab facility.
After these eligibility requirements are satisfied, we'll work with you to arrange plans for an arrival date at our facility.
Paying for Alcohol and Drug Rehab
We believe substance abuse and mental health treatment should be accessible to everyone, which is why The Recovery Village at Palmer Lake accepts a wide range of insurance plans from most major providers. For those without an accepted insurance provider, we also offer self-pay options and can work with you to figure out an affordable payment plan that works well with your situation. Visit our insurance portal to verify your coverage and learn more about payment options.
Getting Started
Ready to take the first step in your recovery journey? To get started, you can:
Schedule Your Tour Today!
Visiting one of our treatment facilities is a great way to get to know our staff and see the amenities and levels of care available, so you can rest assured knowing that your referral patient is in good hands. Please fill out the form below to submit in your request and a member of our Community Outreach Team will be in touch.